Prepared for some more automotive information? We have a great post today that you need to really read. Stay up to this day with all automobile related details and car transport information right here.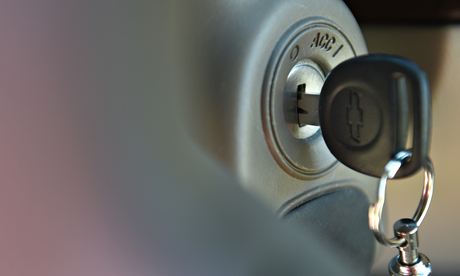 The ignition switch of a 2005 Chevrolet Cobalt, manufactured by General Motors. Photograph: Molly Riley/AP
First quarter profits at General Motors have plunged by 88% as the US-based carmaker was hit by a $1.3bn (£774m) charge to cover the cost of a major product recall.
The company, which manufactures brands such as Cadillac and Chevrolet, plus Vauxhall at Ellesmere Port and Luton, also took a $300m hit for restructuring parts of its European business.
"Obviously, the recall campaign charges in the first quarter overshadows the headline results, but if you look underneath that, we had strong performance across the board," said Chuck Stevens, GM's chief financial officer.
But he insisted it was too early to say whether the vehicle manufacturer would need to take further financial charges over defective ignition switches which have been linked to at least 13 deaths.
GM reported net income during the first three months of 2014 of $125m, compared with $865m in the same period last year, while sales rose to $37.4bn, up from $36.9bn in 2013.
Analysts said it was GM's worst quarterly performance since it unveiled a net loss after leaving bankruptcy protection in 2009, but many had been expecting worse and its shares fell only 1.5%.
"It should be good enough to ease concerns," Citi analyst Itay Michaeli told Reuters. "Expectations were very low. People were just kind of nervous overall about how the quarter would look. The story really here though, in terms of fundamentals, is better performance in the international regions."
GM was until 2011 the biggest car seller in the world but it has been knocked off the top spot by Japan's Toyota. The latter has just announced first quarter sales bigger than GM and Volkswagen, the German contender for the top spot, after soaring sales in China.
In North America GM experienced higher than expected sales of its more lucrative versions of the redesigned Chevrolet Silverado and GMC Sierra full-size pickup trucks.
"The performance of our core operations was very strong this quarter, reflecting the positive response of customers to the new vehicles we are bringing to market," said Mary Barra, the company's chief executive .
"Our focus remains on creating the world's best vehicles with the highest levels of safety, quality and customer service, while aggressively addressing our business opportunities and challenges globally," she added.
Some GM ignition switches have made vehicle engines stall and stopped airbags from working while halting the use of power steering and brakes.
The company is under investigation by US safety regulators, Congress and the department of justice over its failure to detect the faulty part for more than a decade. There have been calls from some quarters for GM to set up a victim compensation fund.
Of the $1.3bn to cover the various recalls in the first quarter, GM said about $700m was related to the defective ignition switches, including $300m to cover the cost of courtesy cars for owners who do not want to drive the cars affected by the recall switch.
The loss in Europe widened to $284m from $152m last year, but the quarter included $200m in restructuring costs already outlined by the company. Stevens said GM was seeing real progress in Europe and still believed financial results there would return to break even by the middle of the decade.
In the past there have been concerns that GM's factories at Ellesmere Port on Merseyside and Luton in Bedfordshire could close. The latter lost its car manufacturing more than a decade ago and now only makes vans. Two years ago the future of Ellesmere Port was assured until at least 2020 after it was chosen to build a new generation of Astra cars.
GM, like many other global car companies, was badly hit by the 2008 financial crisis, which led to a massive downturn in consumer spending. The group was put into court-assisted Chapter 11 bankruptcy in 2009 and later re-emerged as a going concern after public money was pumped into the business.
http://www.theguardian.com/business/2014/apr/24/general-motors-first-quarter-profits-plunge-product-recall