Ready for some more automobile information? We have a good post today that you ought to really check out. Stay up to date with all automobile related information and automobile transportation news right here.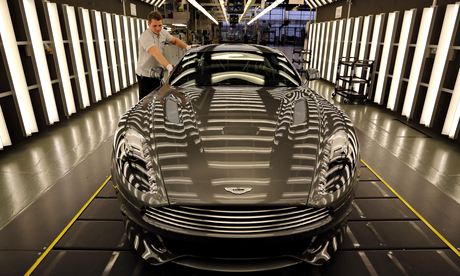 An Aston Martin Vanquish is inspected: the company plans to invest £20m in extending its headquarters and production plant in Gaydon, Warwickshire. Photograph: Christopher Furlong/Getty Images
British car manufacturing sharply accelerated in April, with the number of cars made in the UK up by a fifth.
A total of 133,437 cars were built in UK factories last month, a 21.3% increase compared with April last year and the biggest monthly rise since July 2012 according to the Society of Motor Manufacturers and Traders.
It followed a 12% rise in March, and Mike Hawes, the SMMT's chief executive, said UK factories were beginning to feel the benefit of new models rolling of the production line as well as recovering demand in Europe.
"The thriving nature of the UK car manufacturing industry was evident in April as output grew at its highest rate for almost two years. New model introductions are fuelling growth, while Europe â€" which currently accounts for around half of exports â€" is now seeing an upturn in demand.
"As investments continue to be realised, we expect further rises in the coming months; good news for the thousands of suppliers and employees across the country that rely on this industry."
The figures were published as Aston Martin, the luxury British sports car manufacturer favoured by James Bond, announced plans to invest £20m to extend its factory and global headquarters in Gaydon, Warwickshire. Around 250 new jobs will be created in engineering, manufacturing and commercial roles over the next few months, the company said. The investment is part of a five-year plan to spend more than £500m on developing new models.
Aston Martin also revealed it has received more than 500 applications for just 12 places on its latest apprenticeship round. It will also hire 14 new graduates in 2014.
Almost 80% of the cars made in Britain last month were built for export, a welcome statistic for George Osborne who is hoping the UK economy will develop a greater reliance on manufacturing and exports and a lesser reliance on debt fueled spending and financial services.
Over the first four months of 2014, British factories built 538,240 cars, a 6.9% increase compared with the same period last year.
http://www.theguardian.com/business/2014/may/29/uk-car-manufacturing-accelerates-april